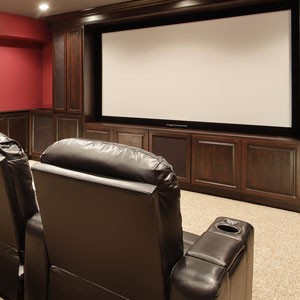 Home theaters bring movies to life and create a comfortable entertainment environment. Tech Xpress offer home theater system installation in Bakersfield, CA.
If you love to watch television, independent films, and popular flicks, a home theater is perfect for you. Tech Xpress offers the highest quality home theater system installation service that can turn your home theater dreams into reality. Whether you want to mount a small TV or renovate an existing room into a home theater, we have what you're looking for.
home theaterSince 2005, we have been providing Bakersfield, CA area residents with exceptional service on all of their home theater needs. Our professional staff can work on any home theater project you have. Tech Xpress offers personalized service to make sure that your home theater has everything you want and more. Instead of taking on the challenge of installing your own home theater, let us do it for you. We will work out all the fine details to create a one-of-a-kind home theater that you can enjoy for years to come.
Tech Xpress has flat screen TV wall mounting services so you won't have to worry about doing it yourself. When you try to mount a flat screen TV on your own, it can be difficult to carry, hard to handle, and potentially dangerous to install. Tech Xpress wants to prevent any of this from happening by mounting your flat screen for you.
Surround sound system installation is another service we provide our customers. With surround sound, you and your guests can hear all the actioned packed moments in the movies you're watching. We have the expertise and knowledge to enhance your regular sound system into the ultimate surround sound system.
We know you have options when it comes to home theater installation and that's why we want you to choose us. Tech Xpress prides itself on having excellent customer satisfaction. With our services you know you'll have all your home theater, surround sound, and flat screen installation needs to be met.
When you count on Tech Xpress your home theater possibilities are endless. Next time you're searching for a reliable company to meet all your home theater installation needs, look no further than Tech Xpress.